Challenge
Every organization facing many challenge in today's changing business environment. As a CEO or as an executive you regularly make decisions and make choices. You have to ensure that these choices will give you the proverbial competitive advantage. Maybe you need to trim costs, spend more to innovate or expand to exploit economies of scale, but whatever you do, you will have to do it better than the competition.
Strategy Consulting
Strategy consulting focuses on supporting clients with the development of corporate, organizational or functional strategies and helping with strategy execution. Our strategy consulting practice is based on bringing the top notch know-how to the organizations by providing highest value support to our clients in strategic decision making, from development of strategy to the execution of strategic plans.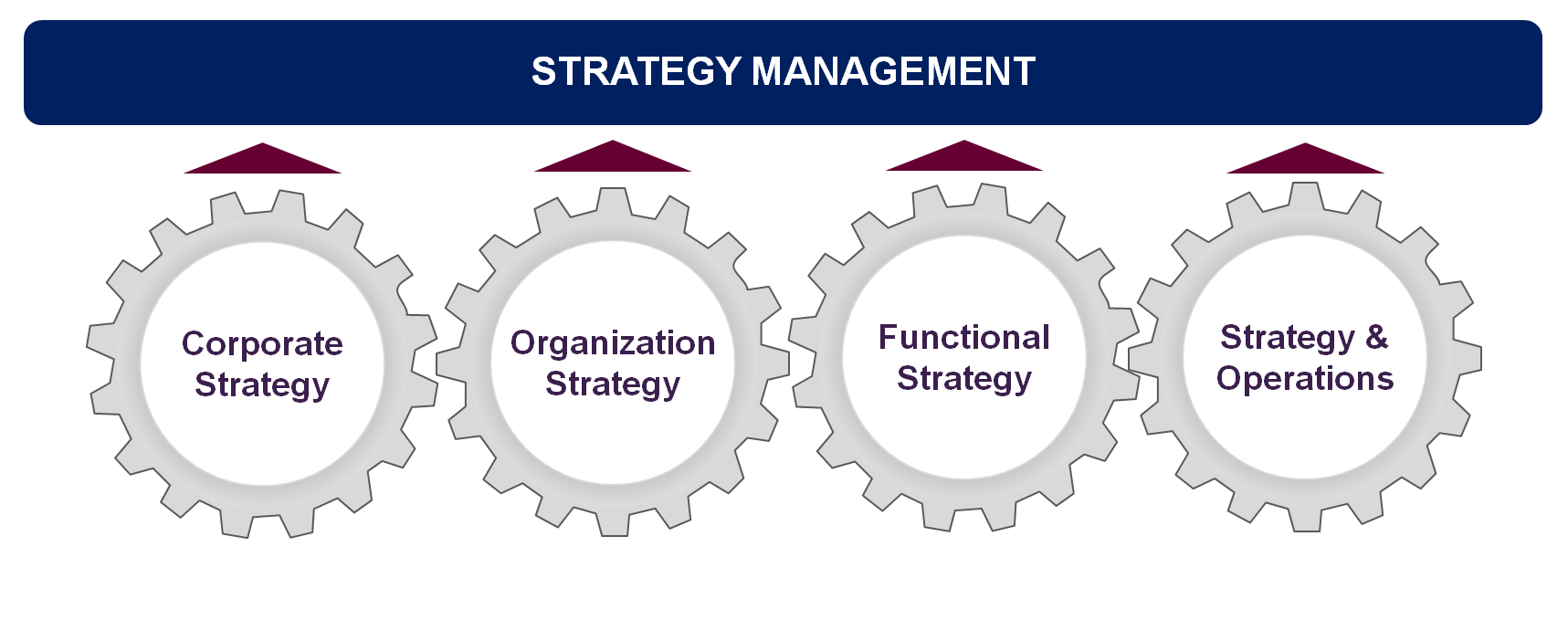 What does a strategy consultant do?
Strategy consultants support client organizations with strategic decision making, which includes the development of strategy and also the execution of strategic plans successfully, typically work for executives and top level managers. Strategic advisors help companies with the definition of their mission, vision and strategy, support them with market entry into a new market or with a shift towards a new business model. The work of strategy consultants can cover all major functional strategies, spanning strategic work across the full value chain.
We work alongside CEO's and Executive Teams to raise competitiveness and performance – serving as their strategy office
Strategy Office
Most organizations have the potential to perform at another and higher level than they do today. But making the transition from good to great requires more than hard work and perseverance. In our experience, one of the most overlooked performance levers is building a robust and two-way bridge between strategy and execution. Many times we've seen new strategies being executed through old structures, practices, and capabilities. Even more often we see existing mindsets preventing fresh strategies from emerging and flourishing. Hence, at the front end of every strategy process you need to unlearn the orthodoxies of the established business, and at the back-end you need to calibrate your organization and operating model to execute effectively on your new priorities. Strategy Office was founded on these simple but fundamental insights.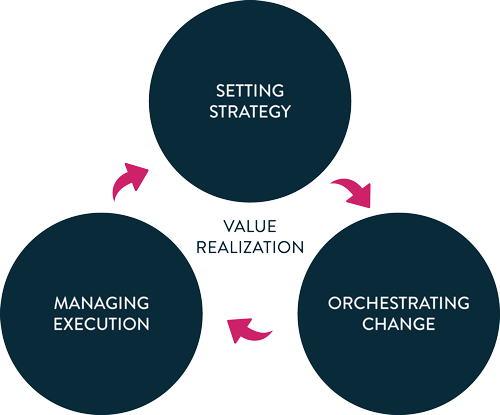 What We Do
Value is created when good strategy hits the ground through effective execution. We bring Fortune 500 level strategy capabilities, practices, and execution into your organization. In close cooperation we facilitate and guide your "strategy work" throughout the year. From running your strategy process and defining corporate priorities to optimizing organizational structures and orchestrating change. From designing decision processes, facilitating workshops and producing quality presentations to developing business cases, and top notch board material. We're your expert team, committed to help you build and run an infrastructure for high performance and value realization.
CLIENT OUTCOME
EXECUTIVE TIME & FOCUS - Free up executive time to focus on leading the business, developing people, building customer relations, evaluating and taking critical decisions and managing your stakeholders.
IMPROVED STRATEGIC DECISIONS - Enable more effective, data driven, and transparent strategic decision-making. And reap the benefits of clearer communication and enhanced organizational buy-in.
BRIDGING STRATEGY & EXECUTION - Ensure that strategies, plans, and projects are deployed and executed effectively, and that results are consistently tracked. Make sure that what is decided actually gets done.
EXTERNAL PERSPECTIVES - Take advantage of 'the outsider perspective' on an ongoing basis to challenge your assumptions and uncover blind spots. Get access to best practices, ideas, sparring, and highly qualified advice.
NEW & LASTING CAPABILITIES - Enhance and align the strategy, execution and leadership capabilities in your management team, and institutionalize effective frameworks and ways of working.
FLEXIBLE & SCALABLE SUPPORT - Scale our involvement up and down as the situation and workload changes. Sidestep the fixed cost of an internal function and the high cost of traditional management consultants.